Touristic attractions
What are the main attractions?
By foot, by horse or by bicycle, you can:
Visit the Laguna Quilotoa, watching the Illinazas and Cotopaxiīs volcanoes. You can also see the Chimborazo which is the highest peack of the world (6310m) from the centre of the Earth.
Take a bath in the hot springs
Go to the indigenous markets of Chugchilan and Zumbahua.
Discover our handicraft, music and danses.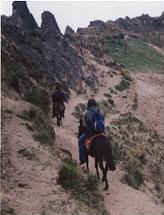 Mountain by horse